Submittal Log
Why Cloud PM is the best Construction Submittal Log for your Company? Because you will be able to create and send your Construction Submittals faster than ever. The best thing about our Submittal Tracking Log is that the flow of work is the same as the one you are already used to. You will still be able to use the traditional workflow for organizing your Submittals, but now in a more simple and efficient way. Our clients strongly believe that Cloud PM has the best Construction Submittal Log on the current market.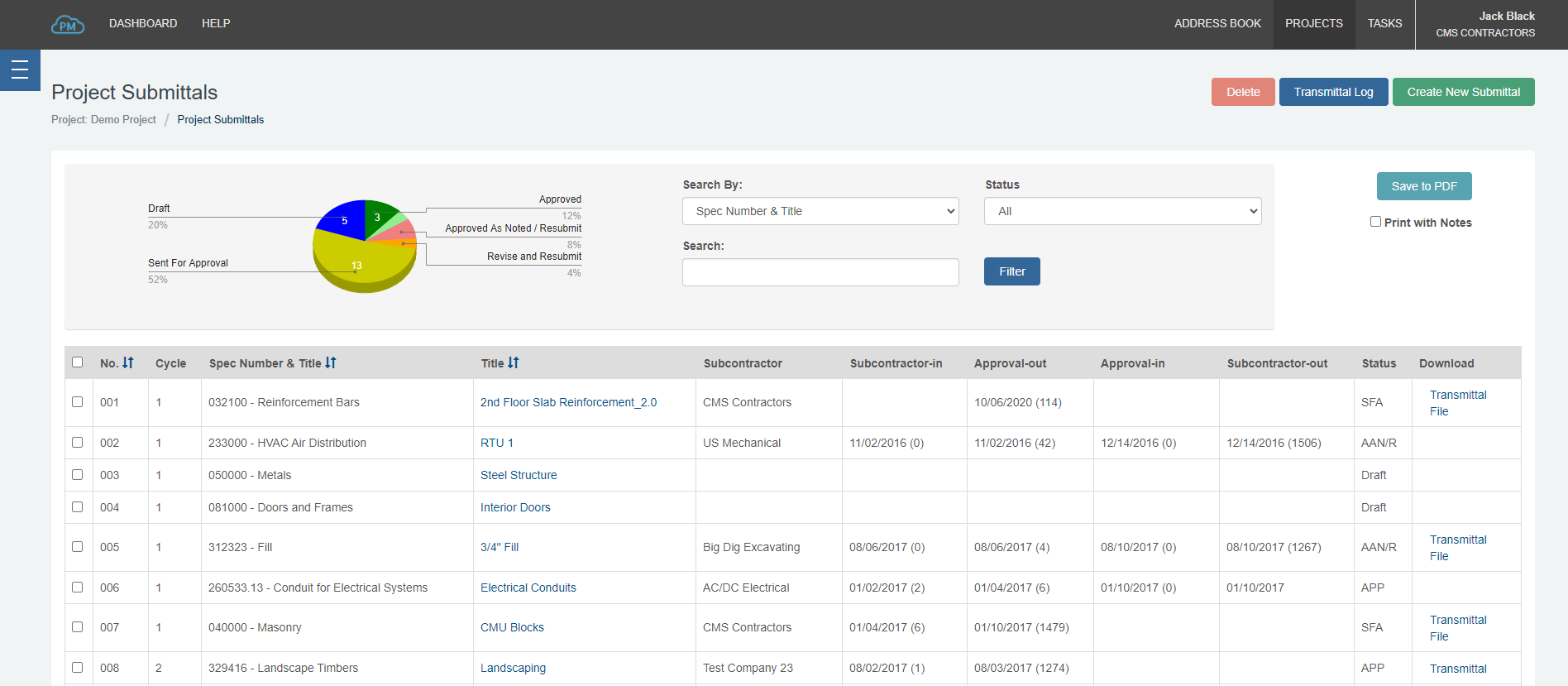 Submittal Statistics
At the top of the Submittal Log you can see the Statistics pie chart which shows the status of the Project Submittals. With only one glance at the chart you can see the number and the percentage of the Draft, Approved or Rejected Submittals.
Submittal Filtering
With the Submittal Register Filters you can find the needed Submittal in no time. You can search the Submittal Log by Specification Number & Title, by Supplier/Subcontractor or by the Submittal Title. Further on, you can filter the Submittals by their status, such as Draft, Approved, Rejected etc.


Submittal Entries
At the Construction Submittal Log the most important information for all the Submittal Entries is shown in a very clear way. You can see the Submittal Number, Cycle, Specification Number & Title, Submittal Title and who is the Subcontractor/Supplier. You can sort the Construction Submittal Register ascending or descending by the Submittal Number, by the Specification Number & Title or by the Submittal Title.
Submittal Dates
At the Submittal Tracking Log you can see the most important dates for each Submittal Cycle. Not only that, but you can also see (in parenthesis) how many days have passed before an action was taken by your Subcontractor, by the Architect or by your Company Employees. You can see the Status of each Submittal and also download the latest Transmittal and Submittal file.