Submittal Log
The Submittal Log provides a clear and concise overview of the status of each Submittal, ensuring you are always up-to-date. Our Submittal Software allows you to set due dates for each Submittal and create automated reminders to notify you and your team of any outstanding items, ensuring that all Submittals are completed in a timely manner. One of the most significant advantages of our Submittal Log is that the it maintains the familiar workflow that you're accustomed to using. You can continue to utilize the traditional process for organizing your submittals, but with greater simplicity and efficiency. Our clients strongly believe that Cloud PM is the best Submittal Software available on the market today.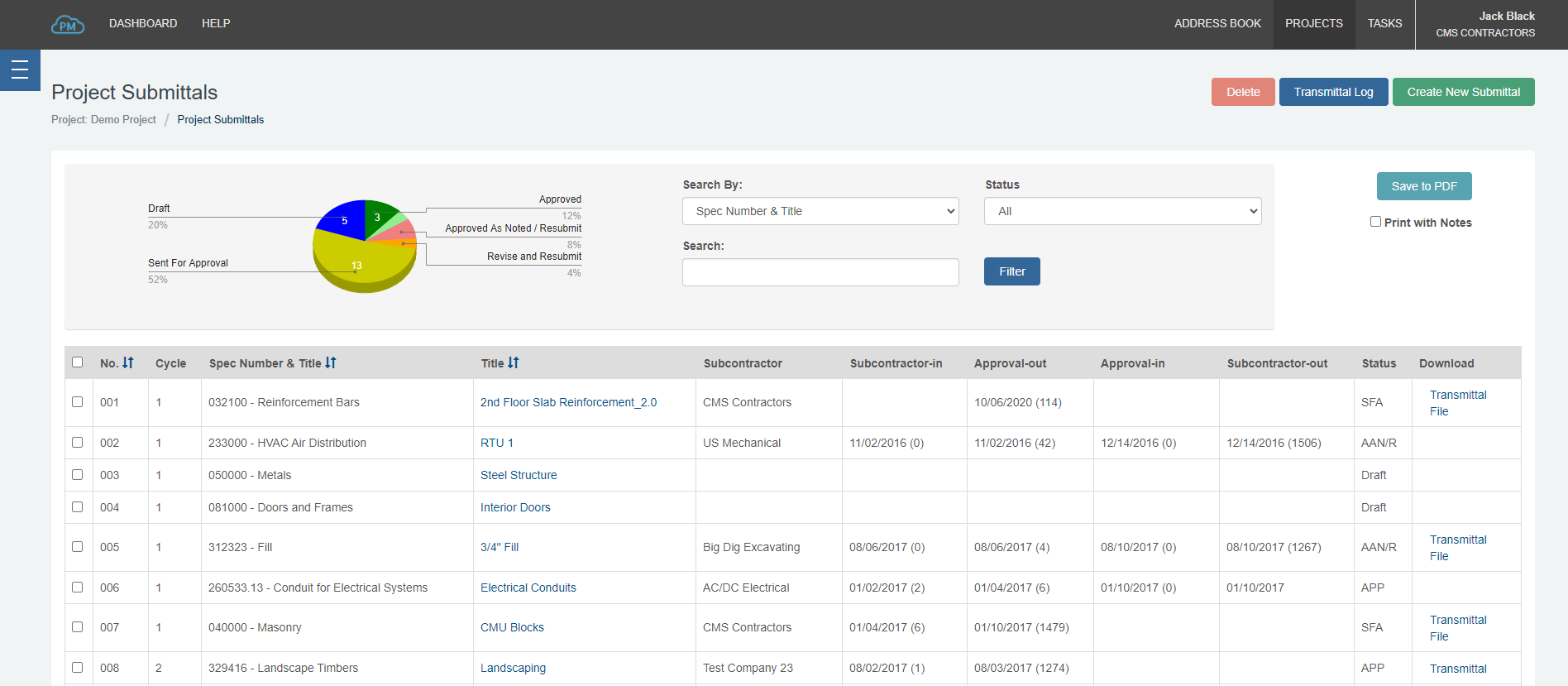 Submittal Statistics
Located at the top of the Submittal Log, you'll find a Statistics pie chart that provides a clear overview of the status of your project's submittals. In one glance, you can see the number and percentage of submittals that are in the draft, approved, or rejected status. This visual representation allows for a quick and easy way to assess the progress of your submittals and take necessary actions to keep your project on track.
Submittal Filtering
Effortlessly locate the needed Submittal with our Submittal Register Filters. With just a few clicks, you can quickly search the Submittal Log by Specification Number and Title, Supplier/Subcontractor, or Submittal Title. You can further refine your search by filtering Submittals by status, such as Draft, Approved, Rejected, and more. Our intuitive filter system allows you to easily navigate through the Submittal Log and find the information you need in no time.


Submittal Entries
The Construction Submittal Log presents critical information for each submittal entry in a clear and concise manner. The log displays the Submittal Number, Cycle, Specification Number and Title, Submittal Title, and the corresponding Subcontractor or Supplier. You can easily sort the Construction Submittal Register in ascending or descending order by Submittal Number, Specification Number and Title, or Submittal Title, providing flexibility and efficiency in managing your Submittals. With this streamlined approach, you can quickly find and access the information you need to keep your project on track.
Submittal Dates
The Submittal Tracking Log provides a comprehensive overview of the critical dates for each submittal cycle. In addition, you can quickly identify the number of days that have elapsed before an action was taken by your subcontractor, architect, or company employees, indicated within parentheses. This information enables you to stay on top of project timelines and take corrective action, if needed. The log also displays the status of each submittal, allowing you to track progress and ensure that your project is moving forward according to plan. Furthermore, you can download the latest transmittal and submittal files, providing quick access to the most up-to-date information available. With the Submittal Tracking Log, you can easily manage your project and stay informed at all times.

Check out our video post demonstrating how you can effortlessly create and send your Construction Submittals in 60 seconds or less!
Explore these pages to delve deeper into the capabilities and features of our Submittal Management Software.